No, we're not suggesting your nonprofit goes to a medium to get a glimpse of your successful future, we're encouraging you to check out the ever-growing social blogging platform, Medium, founded by Ev Williams, who is also the co-founder of Twitter.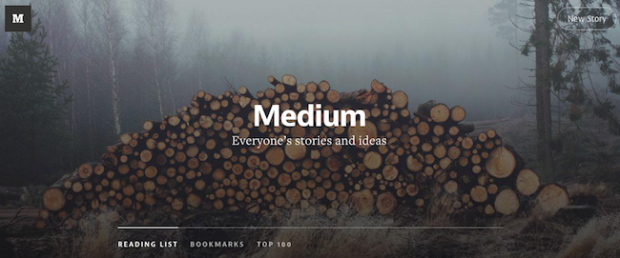 Here's Why Medium Could Work Well For Your Nonprofit:
Storytelling is golden. Medium offers a simple, compelling way to share your stories. Because telling your story up close and personal is key. Julie Neidlinger of CoSchedule notes that instead of a focus on traffic, Medium is focusing on readers.

She says:
Medium is basing discovery of your content on whether or not people have read it. Not hits, not sexy headlines. Readability, not gimmicks or tricks.
Do you notice how Medium, on its dashboard and elsewhere, does not refer to what you write as blog posts, or content? It calls them stories, and that's the key here. Medium wants your stories.

To really focus on the readers, Medium puts a time on the story – they estimate how long it'll take the reader to get through the whole story. This is why it's important that you focus your writing for the web and not a press release or whitepaper. It's a very different style.
A blog-like feature appears at the click of a button: If you don't have a blog, Medium is a great platform to embed into your own website, or to link to. There's no overhead, and it's very straightforward. Just make sure you have the staff capacity to manage engagement on Medium.

Digital newsletters: You can start a publication, which will work as a newsletter for you nonprofit. Publications can be started by anyone. It's simple, really, just a collection of posts. They're treated like magazines. The publication allows you to brand and host in one place - and then, once you've got your publication set up, you can start a newsletter. The more you post, the quicker your following will grow.

Guest bloggers are like wildflowers. They're everywhere. You can invite anyone to blog for your publication, you can even request to share articles that are already out there and performing really well. Did you read an article that aligned with your mission? You can invite that author to contribute that particular article to your publication. They'll submit their draft to you, and you can make changes to layout, text, and photos.

You can create your own domain. Medium enables custom domains for orgs with the functionality and look of Medium.

Trolls aren't nearly as common. Because people can't comment on blog posts, they leave notes, and notes cannot be anonymous. Trolls feed on anonymity! How do notes differ from comments? Your audience can leave notes in the margins of the story as they're reading. And what's great is that as the owner of the Medium article, you choose which notes are public.
We've adapted some of Medium's guidelines for nonprofits to give you quick tips for getting started on Medium:
Sign up with your organization's Facebook or Twitter account. Make sure that you use your org's existing social media accounts to increase engagement and create a cohesive brand.
Basics Of Using Medium
Click on your avatar to access navigation.

Click on "New Story" to begin writing.

You can save your story as a draft. Drafts are posts that are not published and that you can share with anyone privately. This allows you to send to others for feedback and editing purposes.

One your post becomes a story, it's published.

All published stories appear on your profile (http://medium.com/@username).

A publication is a way to organize your stories into a theme. You have to create one by clicking the "New Publication" button in the upper right-hand corner.

View your stats page to measure the impact of your story
How Should You Distribute Your Stories?
Share across Facebook, Twitter, and any other platforms you're active on. You can find share buttons at the bottom of every story.

Encourage people to follow you on your org's profile. They will receive a notification each time you publish a story.

Create a themed publication. People can choose to follow the publication if they do not want to follow the profile. Stories from a followed publication get distributed onto Medium's Personalized Reading List.

A story will trend and get distributed more throughout Medium's network if lots of people are reading it at any given time.
Are you already on Medium? What are your favorite features? Are there any obstacles that you're wary of? We want to hear it all.