Nonprofits spend a lot of their Communications staff time trying to get their issues covered by the media. One common question that gets asked is "how many media hits is good?" M&R reviewed 40 nonprofit organizations media strategy and results from 2015 in hopes of spotting important trends. Here's what they concluded in their new report 2016 Mediamarks Study.
Annual Media Hits
Looking at all 40 charities studied, nonprofits received about 100 media hits in the outlets that the study measured. This works out to be 8 major media hits monthly.
International news dominated the news cycle for nonprofit media coverage. The Syrian refugee crisis and earthquake in Nepal, in particular. In times of disasters and crisis, reporters look for international organizations who can serve as sources for their news articles. In 2015 international relief organizations had 6x more media hits than US Poverty orgs and about 3x more media hits than Environmental and Health orgs in 2015.
The report concluded that Environmental and International news hits are more diverse since they can comment on a wide range of news rather than a specific topic like Lung Cancer.
Health hits are big. "Many times they're reports that government agencies produce that organizations jump on. Who doesn't love a press piggyback ride? It's worth noting that this isn't a criticism. It's a trend of what health reporters tend to cover and Health groups are wise to make reports part of their media strategy," said the report.
Type of Media Hits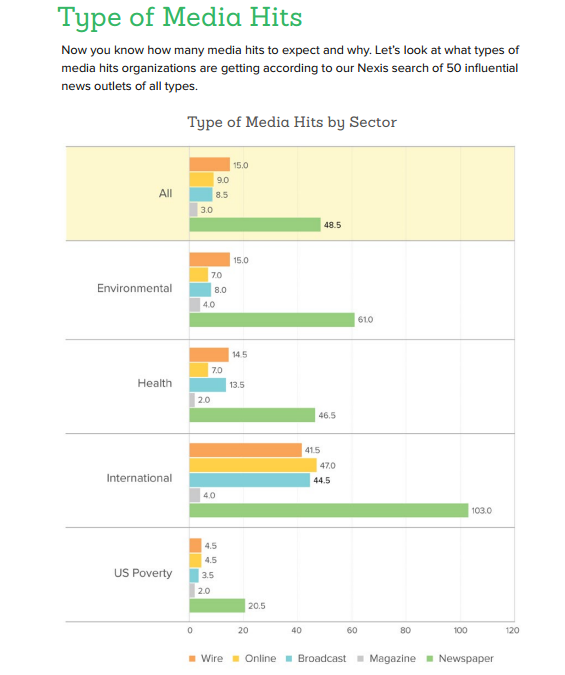 Daily newspapers might be struggling financially these days but they are still prominent and widely read. Looking at the median number of stories including nonprofits, organizations were covered 6X more in daily newspapers than main broadcast news.
The data showed that nonprofits are rarely covered in magazines – plus they tend to have a several month lead time. Across the sectors the study analyzed, organizations received a median of 3 Magazine hits in 2015.
15% of media hits came from the news wire.


Media Coverage By Month
US Poverty organizations receive the most press coverage in November and then it descends in December. January and February are some of the slowest news media coverage time periods for nonprofits. Can you nonprofit leverage these two months better?
Slow and steady coverage throughout the year is the best type of coverage rather than two big media hits a year. "When it comes to reaching organizational outcomes, we've found a sustainable strategy is what counts in the end too," said the report.


Media Coverage VS Media Mentions
The majority of news stories in the nonprofit study received mentions and not major media coverage. The overall Prominence Ratio (# Feature Hits / # Total Hits) for the organizations in the study is 8.15%.
Bottom line, don't be a media hog. Media mentions are great and can really boost your organizational presence. It's rare for an outlet to exclusively cover your nonprofit.
Environmental orgs were the most prominent in receiving media coverage with an 11.14% Prominence Ratio score.


Your Future Media Goals
The report ends with six suggested questions that nonprofits should ask themselves when prepping for their future media strategy.
Which outlets are in your tunnel — and which aren't?
What type of media do the most and least of our hits come from?
When in the year are there gaps in our media coverage?
What is our organization's Prominence Ratio?
What is the ratio of our Advocacy, Awareness and Fundraising hits?
Are we asking loud or clear enough for the change or action we seek?

Allyson Kapin
Allyson has been named one of "Top Tech Titans" by the Washingtonian, one of the Most Influential Women In Tech by Fast Company, and one of the top 30 women entrepreneurs to follow on Twitter by Forbes for her leadership role in technology and social media. As Founding Partner of Rad Campaign, she leads the firm's client and online strategic services. For over a decade Allyson has helped non-profit organizations and political campaigns create dynamic and award-winning websites and online marketing and recruitment campaigns. She works side-by-side with her clients to meet their web needs and maximize their online effectiveness to create real world impact.