If you're like most nonprofits, one of your top priorities is to raise money to support your cause and programs. To raise money, you need to craft strategies to cultivate donors and move them up the engagement ladder. To do this effectively though, you need to understand what motivates donors to contribute money to charity.
The infographic "Where and Why People Donated their Time and Money in 2010/2011 Trends" provides some great data that is worth noting as you craft your fundraising strategies for 2012.
Donors said that the top five reasons that motivated an individual to fundraise were:
69% felt a personal or emotional connection.
50% said a friend or family member asked them to participate.
37% said it was a physical challenge (like a marathon to support a charity).
35% said it was to benefit the local community.
32% said they wanted to be part of a company or group team.
What channels are people donating through?
52% said that they donate money when they check out such at a grocery store.
49% said by check.
32% said through a gift soup.
31% said through a website.
27% said through a fundraising event.
The biggest U.S charities people donated to were:
The United Way with $3.9B
Salvation Army with $1.81B
Feeding America with $1.5B
American Red Cross with $1.08B
Food for the Poor with $1.04B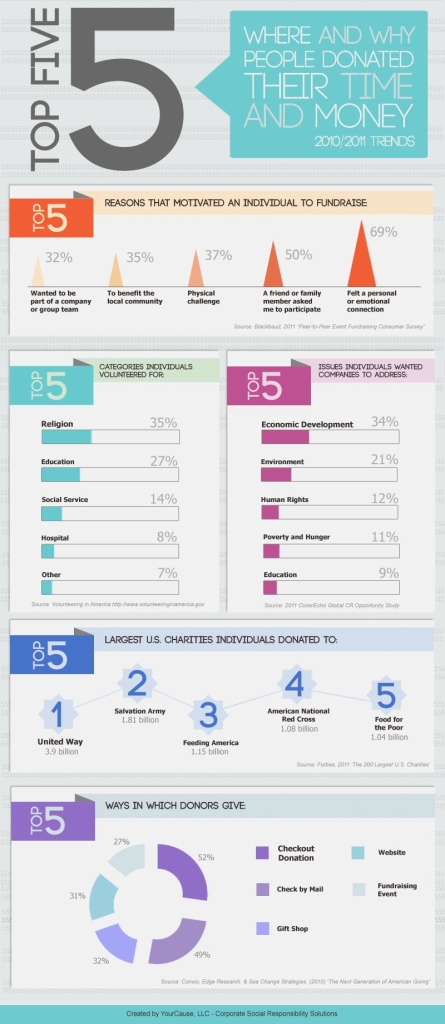 Allyson Kapin
Allyson has been named one of "Top Tech Titans" by the Washingtonian, one of the Most Influential Women In Tech by Fast Company, and one of the top 30 women entrepreneurs to follow on Twitter by Forbes for her leadership role in technology and social media. As Founding Partner of Rad Campaign, she leads the firm's client and online strategic services. For over a decade Allyson has helped non-profit organizations and political campaigns create dynamic and award-winning websites and online marketing and recruitment campaigns. She works side-by-side with her clients to meet their web needs and maximize their online effectiveness to create real world impact.