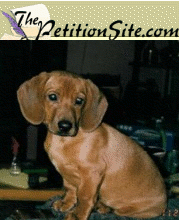 For all the online petition naysayers out there here's a great example of how powerful online organizing is becoming. One of our petitions on Care2 has collected almost 2200 signatures. Not impressed? Well, what if I tell you this petition is urging the maximum sentence for a man who killed his ex-wife's dog in a town of 1,250 residents? The Twin Cities' Pioneer Press found it worth reporting on in the article How a dog's death was heard 'round the world: Wisconsin case shows the growing popularity of online petition drives.
This is a pretty specialized issue; the creators of the petition only had a goal of 1,500. It was fortunate that the petition authors used thepetitionsite.com, however, as it enabled the word to spread quickly within Care2's critical mass of pet-friendly people. The tool also enables people to invite others to sign and spread the word via email. Now this woman from small-town Wisconsin has almost 2200 people from around the world standing up for her cause.
Any comments? How about other grassroots causes that have benefited in a big way from online petitions and organizing?