Nonprofits are often among the earliest adopters when it comes to technology and cloud computing is no exception. The chief factors to consider in cloud services are security, portability, reliability, and cost. The savings can be dramatic too. Check out William Grassie's article in the Chronicle of Philanthropy out how the Metanexus Institute shaved $176,000 of their annual budget by shifting to cloud based infrastructure.
Website


Registering a domain, purchasing hosting, installing an open source CMS like WordPress, and setting up a basic design theme can all be done affordably. It's not obvious, but it's not rocket science either. If your priority is to get a web presence up quickly for your new organization, you can always revisit design again. In the meantime focus on telling your story well, and use the blog portion of your site to engage your supporters. I'm not going to go into detail about the steps to setting up your nonprofit website quickly in the cloud. Others have covered that which you can check out here.
Nonprofit CRM
Managing your nonprofit's database is key so you'll need a good CRM to help you manage all your donor relationships. Salesforce for Nonprofits is often looked to as a good choice because of their grant program that includes 10 free licenses. The downside of Salesforce is that the implementation costs to get your Salesforce instance configured the way you need can be prohibitive. If you're drawn to the power of Salesforce integrated featureset, Convio's Common Ground CRM which is built on the Salesforce platform may be a good alternative.
Even Common Ground will set you back a few thousand dollars per year though so for your ultimate lean startup nonprofit consider Democracy In Action's Salsa Platform or any of the other nonprofit CRMs evaluated in Idealware's Consumers Guide to Low Cost Donor Management Systems.
Most nonprofit CRM's can handle a broad range of features including collecting donations, sending emails to your supporters, segmenting your list, personal fundraising, event registrations, surveys, petitions, advocacy letters, and a ton of other functions. The truth though is that achieving nonprofit CRM zen is a pipe-dream. There are a ton of great cloud based tools nonprofits can take advantage of and restricting yourself to an all-in-one solution can be frustrating. Also, many early stage organizations decide to use an official nonprofit CRM just for it's database tools and use other apps for functions like email, donations, or event registrations.
Other CRM and constituent communications apps that you may want in your arsenal for donor communications and relationship management include:
Login Keys to the Kingdom


There are a few logins you'll need for your organizations to really take full advantage of the cloud. Google, Facebook, and Twitter logins are required for authentication purposes for a ton of web services you may want to use so be sure to grab those logins.
For Google this means registering for Google's recently re-launched nonprofit program, which will let your staff work with Google Apps email, calendaring, Google Docs, and Analytics. The program also gives you access to YouTube's nonprofit features including Call-to-action overlay links and a Google Grant of a monthly Adwords budget that starts at $10,000.
As nice as it would be to have every payment go through your own nonprofit CRM there may be times when you'll want to use something outside your own system to collect funds - Eventbrite or a custom storefront for example. For this your going to need a Paypal or Google Checkout merchant account.
Collaboration & Messaging
You can run your office phones with Google Voice or another web based phone system like Toktumi. If you need to chat or video conference with volunteers or remote team members Google Talk or Skype have you covered, Skype and TinyChat allow for three way video conferencing and iChat will even let you control another person's desktop to provide remote support.
For project management many organizations work with something like Basecamp or Zoho in addition to some combination of Google Docs and Calendar. There are a ton of cloud based project tools out there so play around and see what works in your team's workflow.
Backup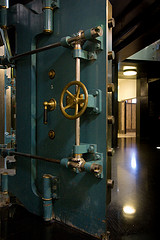 When it comes to program collaboration you'll want something that let's you collaborate on documents and backup your files. Dropbox, Box.net, CrashPlan, and Mozy are all good options for cloud storage and backup and you may want to get a local backup device to keep a redundant copy of all you important program files. Apple's TimeMachine can backup wirelessly and doubles as a wireless router, but you can setup the TimeMachine or Crashplan software on any hard-disk for local backup as well.
Hardware
Congrats! You can ditch your office web servers and manage your lean mean nonprofit cloud machine with your laptop and a latte!
Over to You
How are you making cloud computing work for you at your organization.
Avi Kaplan is the Online Coordinator at Rad Campaign, a firm that provides web design, web development, and online marketing and strategy to nonprofit organizations and political campaigns.
*photo-credit Flickr user Marcel Oosterwijk