Good news for nonprofits. Apple just announced that Apple Pay will now allow nonprofits to use the service for donations. Apple used to ban iOS apps from using Apple Pay to collect funds, meaning that charities needed to use third-party apps or outside services to process donations. Now, nonprofits can incorporate a donate button that processes transactions directly.
However this launch raises many questions: What kind of an impact will this have on nonprofits? How could your organization benefit from using Apple Pay? What are the downsides of using Apple Pay? How do you know if it's right for your nonprofit?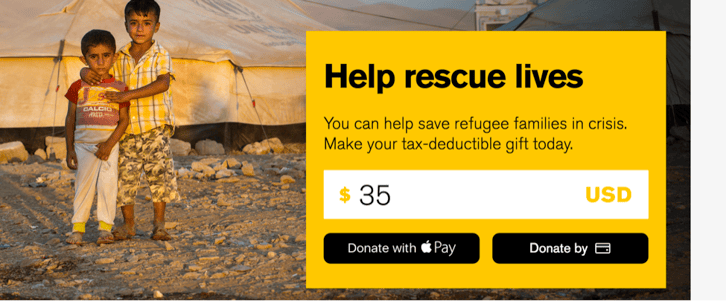 We did some research over at Rad Campaign and have some great information for you as you continue with year-end fundraising.
An Apple Pay "Donate" button would mean that iOS users can use Touch ID on mobile and click "Donate" on the web. Users can confirm their donation with any of their iOS devices such as their phones, tablets or Apple Watches. There several benefits to using Apple Pay. Donors will love it because it eliminates the inconvenient process of having to enter your information thus making payments easier. As the CEO of charity:water explained to TechCrunch, many people want to donate to good causes but they are often discouraged because of poor donation flows on nonprofit websites. Apple Pay would give them the option to do it quickly and easily. Reports from Shopify (not a nonprofit but still a useful case study) also say the service lets customers check out at least 60% faster. Online stores using Apple Pay have experienced up to 2x higher checkout conversion rates. If this increases conversion rates for nonprofits at similar rates, nonprofits could see an uptick in donations.
Some nonprofits have already started using Apple Pay, including Doctors Without Borders, charity:water, UNICEF, Feeding America, the World Wildlife Fund, The Nature Conservancy and Red.
Of course there are some downsides to using Apple Pay. It's limited to iOS users and is currently only available in the US, which may not be the best option for international organizations unless they have a strong US presence and base of donors. This is something to think about before making a decision on whether to adopt the service.
Interested in trying out Apple Pay on your donation page? Apple is launching an application form for any nonprofits who are interested. Apply will be relying on Benevity, a platform that facilitates charitable giving to vet any who apply. If your nonprofit operates mainly in the US and relies heavily on mobile donations, it's definitely worth looking into applying for Apple Pay.

Allyson Kapin
Allyson has been named one of "Top Tech Titans" by the Washingtonian, one of the Most Influential Women In Tech by Fast Company, and one of the top 30 women entrepreneurs to follow on Twitter by Forbes for her leadership role in technology and social media. As Founding Partner of Rad Campaign, she leads the firm's client and online strategic services. For over a decade Allyson has helped non-profit organizations and political campaigns create dynamic and award-winning websites and online marketing and recruitment campaigns. She works side-by-side with her clients to meet their web needs and maximize their online effectiveness to create real world impact.