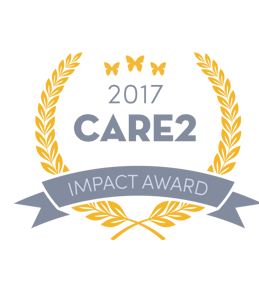 We invite you to submit nominations for the eighth annual Care2 Impact Award, which recognizes a campaign or initiative in the nonprofit sector that has made an outstanding impact on the field of online advocacy, online fundraising or both.
The winning organization will receive a cash donation of $1,000 from Care2. The runners up will each receive the Care2 Innovation Award. Care2 will make a $200 donation to each of these organizations. The awards will be presented in March at the 2017 Nonprofit Technology Conference in Washington, DC.
The deadline for nominations is midnight EST on Saturday, February 11.
Five finalists will be selected by a panel of judges from the pool of nominations. Check back on Monday, February 20 to cast your vote for one of the finalists.

The judges will consider four main criteria in picking these finalists.
Innovation.

Did this campaign introduce valuable new ideas and approaches to the nonprofit sector?



Influence.

Did the initiative produce a ripple effect to influence and benefit other professionals in the sector?



"Impact Delta."

Is there a quantifiably large difference between the "before" and the "after" of campaign – measurable in fundraising dollars, or the quantity and quality of advocacy victories won, or the number of citizens participating in a cause? [Note that a proportionally large impact at a small organization is just as important as a big impact at a large organization.]



Advancing The Cause.

Did this campaign help accomplish something that advanced their cause(s) meaningfully, such as via organizing or winning advocacy victories? Or by providing the funds needed to fuel campaigns that won victories?

The judges this year are:
Sarah DiJulio
Principal, M+R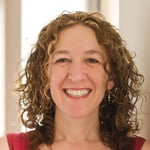 Sarah launched M+R's online advocacy and fundraising division in 2001, when a big chunk of her job consisted of explaining what she did since most people had never heard of either thing. In addition to leading M+R's online division and providing strategic direction on a number of accounts, she is a regular speaker at conferences and has served as an online fundraising expert for media outlets including the Chronicle of Philanthropy, the New York Times, and the BBC. In 2006, Sarah led the creation of M+R's flagship report, the M+R Benchmarks Study which is now published annually in collaboration with NTEN.
Sarah has worked closely with dozens of nonprofits over the years, providing strategic guidance to Oxfam America, Smithsonian Institution, American Red Cross, Mercy Corps and Sierra Club, among others. When Sarah's not at work, you can usually find her with her two small boys hiking the Billy Goat Trail.


Amy Gonzalez
Founder and President, Blueprint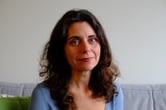 Amy Niles Gonzalez is Founder and President of Blueprint, a strategic communications firm focused on digital strategy, design and development and targeted outreach. A veteran entrepreneur, interactive strategist and management consultant, Amy works with numerous clients on issue advocacy and digital campaigns that leverage data and modeling alongside creative and messaging. Amy was recently selected as 2013 CampaignTech Innovator and one of the 2014 Influencers 50 by Campaigns and Elections magazine.


Paul Habig
President, Sanky Communications and SankyNet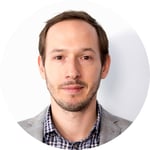 Paul Habig is President of Sanky Communications and SankyNet, a marketing company that specializes in integrated fundraising, communications, and advocacy for nonprofits. Paul has more than fifteen years of integrated fundraising, direct mail, online and social advertising, web design, and email marketing experience. He has developed award-winning strategies for more than 90 nonprofit organizations.
Paul's background in the nonprofit world also includes marketing and fundraising positions at diverse organizations such as the YMCA, Catholic Near East Welfare Association (CNEWA), and Pontifical Mission. He also ran his own Internet marketing business working with brands such as VitaminWater and SmartWater. He is an active member of the Greater New York Chapter of the AFP and serves as co-chair of the Web, Tech & Social Media track for Fundraising Day in New York, and also as a board member for the DMFA.
He is an adjunct teacher at the School of Public Affairs at Baruch College and is a frequent speaker at DMA, DMA of Washington, NTEN, DMFA, and AFP workshops and conferences. During his spare time, he loves spending time with his daughter at the playground, music class, and reading new books together.

Alia McKee
Principal, Sea Change Strategies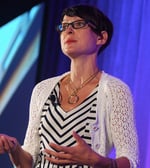 To make social change, you have to fund social change. That's why Alia McKee has dedicated her professional career to fundraising on behalf of causes she believes in. A principal of Sea Change Strategies, a boutique research and fundraising communications agency – Alia is a veteran strategist who has worked with clients including The Wikimedia Foundation, Amnesty International USA, the Monterey Bay Aquarium, National Audubon Society, Environmental Defense Fund, Conservation International and the International Rescue Committee among others.
Alia is a noted thought leader and speaker. Her work has been featured in Forbes, NPR, The Chronicle of Philanthropy, Buzzfeed and CNN. She earned her masters in Public Affairs from the LBJ School at the University of Texas at Austin and her masters in Social Work at UT Austin as well.

Tiffany Neill
Partner, Lautman Maska Neill & Company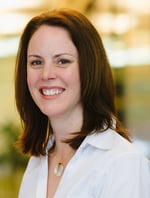 Tiffany Neill, CFRE, balances empathy for the non-profit viewpoint with an analytical view to help organizations realize their vision of a better world. It's a unique combination that helps her recognize that every penny spent on fundraising initiatives is a resource that non profits must pull from their existing program and service budgets. She has consulted with many organizations, including the United States Holocaust Memorial Museum, House of Ruth, PCRM and Ronald McDonald Houses.
A frequent speaker at industry meetings and seminars, Tiffany is a member of the DMAW and AFP, and is past Chair of the Board of the Association for Direct Response Fundraising Counsel (ADRFCo). A graduate of Stanford University, she earned an MBA from Johns Hopkins University.
Thanks to all of you who participate in the nomination process.
Questions regarding the voting process? Please email us at events@care2team.com. Thanks!