With so many apps coming out all the time it's easy to miss the ones built for social good and hard to keep up on useful apps that nonprofits and causes can use to do their work. Frogloop has you covered. Here's our wrap-up of new, updated, and helpful apps for doing good.
This week we've found apps from museums. Mobile apps are an interesting way for museums to advance their educational missions beyond people's expectations. Here are a dozen of our favorites.
Seafood Watch By Monterey Bay Aquarium

iOS/Android: Seafood Watch offers recommendations of ocean-friendly seafood choices including health warnings, consumer notes, and sustainable alternatives for individual species. You can read seafood guides including one for sushi lovers, browse a full list, or view seafoods categories for Best Choice, Good Alternative, and Avoid.
If you've heard of only one nonprofit mobile app, it's likely this one since it was one of the earliest mobile apps developed by a major nonprofit organization. One thing that has kept this app relevant over time is the Aquarium's commitment to keeping it updated. Successful mobile apps are almost always the result of continued experimentation, learning from failure failure, and gradual improvement over time. The Monterey Bay Aquarium clearly takes this approach seriously.
The iPhone version, released in January 2009, built on an earlier mobile site targeted at feature phones that launched in 2007. One of the app's best features, Project FishMap, which allows users to find nearby restaurants and businesses serving sustainable seafood and contribute new establishments to a growing database, was added in an early 2011 update. Beth Kanter has a great interview Humberto Kam, the aquarium's Senior Manager of Online Communications, that offers insight into the strategic thinking behind the app.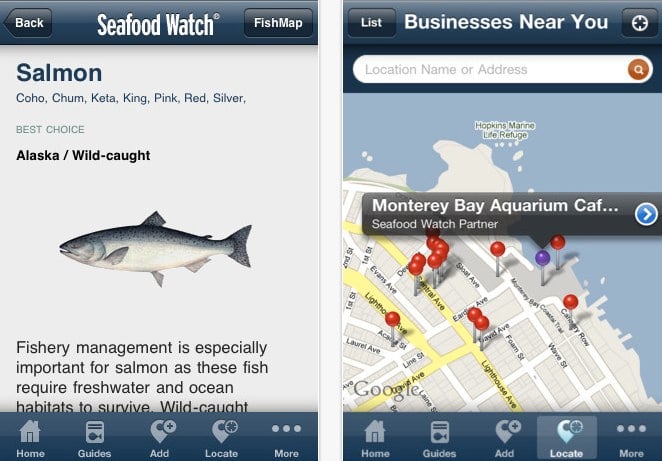 ArtClix from the High Museum of Art, Atlanta

iOS/Android: ArtClix enhances uses mobile to enhance the museum experience. Museum visitors can use the in-app camera to photograph individual works of art which the app recognizes to serve up information about the piece, comments from past visitors, and for some works, audio orientations from the artist. This app is heavily informed by its content and can adapt with each new exhibition installed at the museum.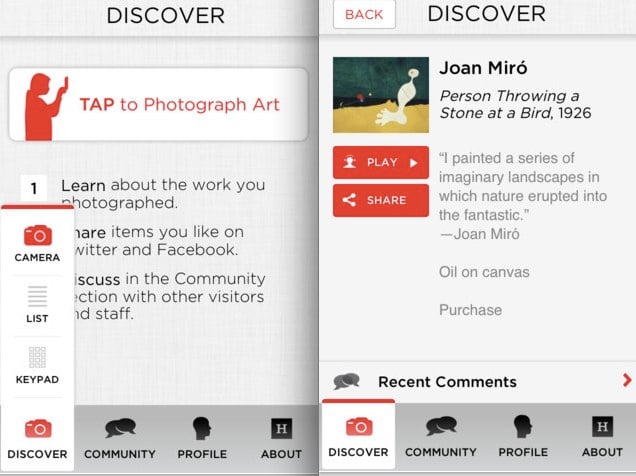 Historic St. Louis apps by Missouri History Museum
iOS/Android: This app truly takes history outside the walls of the museum by mapping several hundred historic photos across St. Louis. Choose a photo from the map or gallery to learn about the architecture, the context behind the image, and related anecdotes from St. Louis' storied past. Best of all, you can get a great "then and now" view on location as you tour the city using each photo's "Guide Me!" button to enable an image overlay that puts the historical image over the phone's camera view.
National Parks by National Geographic
iOS: NatGeo's app offers in depth Park Guides for 20 of the 58 national parks in the US. Each guide maps, up to date weather info, park secrets, photos and recommendations from other visitors, and tips for where to find the best photo ops, trails, picnic spots, and other attractions during your visit. Road trippers can build iteneraries and park junkies can keep track of which parks they've visited. One park guide of your choice is included with the free app, but you'll need to pony up $.99 for each additional guide you want to download.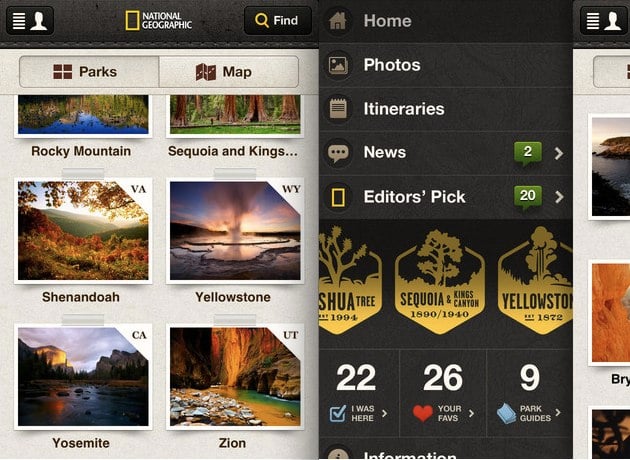 MoMa by the Museum of Modern Art
iOS/Android: The MoMa app offers audio guides for museum tours, a searchable guidebook of the museum collection, info about current exhibitions, and a detailed calendar for films, screenings, gallery talks, lectures, and other museum events.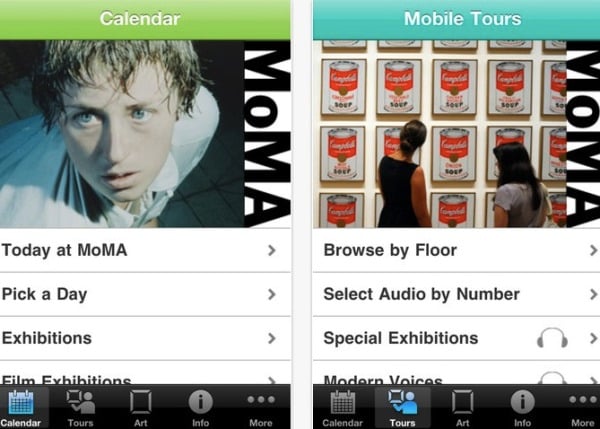 Smithsonian Mobile by Smithsonian Institution
iOS/Android: This app offers information similar to the MoMa app except that users can browse all of the Smithsonian's 19 museums from one place. This proves especially handy to visitors to Washington DC trying to decide between events and exhibitions on the national mall and across the city. You can also mark your favorite spots to help plan ahead for your visit or remember the things you loved and want to revisit someday.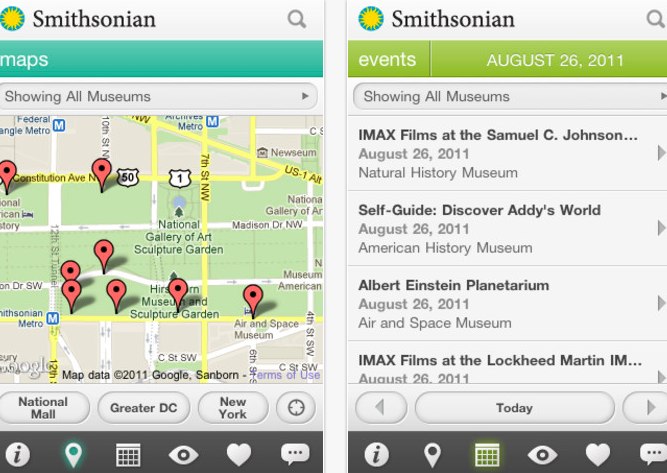 MEanderthal by Smithsonian Institution

iOS/Android: MEanderthall is based on the Hall of Human Origins in the Smithsonian's National Museum of Natural History. You can't take home the lifelike reconstructions of early human species on display, but with MEanderthall you can take home one of the exhibit's most popular features, the face morphing station. The mobile app let's you transform yourself into the likeness of several early humans.
Here's a money shot of me as Homo Neanderthalensis. I may have been shorter and stockier than modern man, but I'm your closest extinct human relative and I wore clothing, hunted big animals, and used sophisticated tools and fire, so don't mess with me!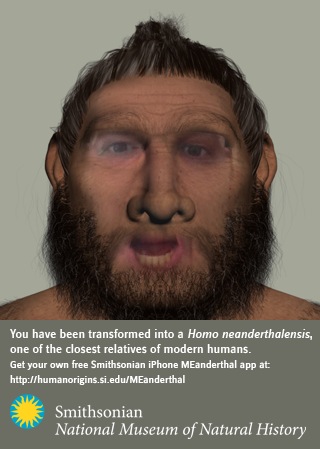 Today's Front Pages by Newseum
iOS: The top floor of the Newseum hosts daily copies of the front pages of newspapers around the world. It's a lot of fun to browse the stories that are relevant in different countries and see the angle each paper takes in covering shared global events.
The Front Pages app brings this experience to mobile, letting users search by location and paper name and mark their favorites for daily viewing. It's a nice tie-in to the Newseums mission educating the public about "the value of a free press in a free society and tell[ing] the stories of the world's important events in unique and engaging ways."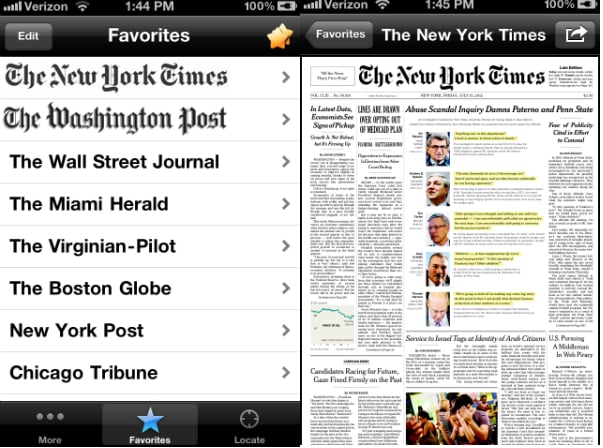 Hoping for more? Check out our previous roundup of Apps for Good and tell us about some of the apps you've found that are built to do good or helpful to your work this week.
Avi Kaplan is a Senior Strategist at Rad Campaign, a firm that provides web design, web development, online marketing, and strategy to nonprofit organizations and political campaigns.