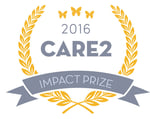 The finalists have been selected by a panel of judges from a pool of nominations made by members of the nonprofit community. Now, you will choose the winner by voting for the campaign of your choice! The campaign with the most votes will win the Impact Prize and the runners up will win the Innovator Award.
Voting will close at midnight on Friday, February 26, 2016.
Here are the finalists:
Colorlines: Justice for Sandra Bland

Race Forward advances racial justice through research, media, and practice. Their tireless reporting and direct calls to action through the Colorlines site mobilized thousands and generated sustained media coverage of questions of race, gender and the use of force by police. Their reporting on the Sandra Bland case brought nationwide attention to her cause.
www.colorlines.com/tags/sandra-bland
Covenant House International: Not a Game
"Not a Game" is an advocacy campaign designed to help constituents learn about the shocking sex trafficking of minors that takes place around major sporting events. The campaign drives visitors to sign a petition to the Attorney Generals, share the site and its graphic content, and join a Thunderclap campaign. A microsite was created to provide a streamlined experience and put attention on the urgency of the campaign. But nothing is more compelling than quotes provided by some of the trafficking survivors who are safe at Covenant House. Through a follow up conversion series, Covenant House educates new constituents on the connection between homelessness and trafficking. By establishing this as a chronic crisis that exists not just at the "Big Game," they are able to engage new advocates in the national anti-trafficking agenda. A large portion of advocates from last year's "Not a Game" campaign lent their voice to the passage of 12 critically important anti-trafficking bills in 2015.
Oxfam America: Lives on the Line - The Human Cost of Chicken

As part of their mission, Oxfam stands with people in the United States whose right to a decent living is threatened—especially vulnerable workers in some of the nation's most difficult and low-paying jobs. They created a comprehensive storytelling platform about poultry workers to drive meaningful change in three areas of worker treatment: compensation, health and safety in the workplace, and workplace discrimination and harassment. Signs of progress include pay increases for workers, a new OSHA program to monitor worker saftey, and support from 15 members of Congress. They will continue in 2016 to use Lives on the Line to drive action with their supporters by sharing the stories of poultry workers who face difficult working conditions.
www.oxfamamerica.org/livesontheline
WWF: End Elephant Slaughter - Save Their Ivory Tusks
In June of 2015, WWF co-hosted the Ivory Crush in New York's Times Square alongside the US Fish and Wildlife Service, and invited a select group of WWF activists to band together in support, both in person and via live stream. WWF saw its most successful petition drive ever in the US with 1,013,942 Americans signing the petition that called for an end to the illegal ivory trade in the United States. Since then, Hong Kong has signaled to bring an end to the domestic ivory trade and are strengthening efforts to tackle the illegal ivory trade. WWF's online advocates have had a tremendous impact on influencing regulations regarding ivory trade and wildlife trafficking both domestically in the United States and globally.
www.worldwildlife.org/stories/crush-and-burn-destroying-illegal-ivory
Fight for $15
This extraordinary combination of field organizing and online mobilization has secured real wage gains for tens of thousands of working people in New York, Los Angeles and cities across the country and spur actions from major employers like Walmart to begin to address low wages for service workers.
Questions regarding the voting process? Please email us at events@care2team.com. Thanks!