Over 1400 taglines were submitted to the Nonprofit Tagline Awards. The final voting is down to just 63 tagline finalists. Creating good taglines for your nonprofit's brand is challenging.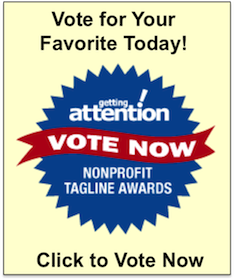 There are so many different stakeholders that you need to think about both externally and internally when crafting the messaging. Here are some of the taglines that captured my attention right off the bat.
Fundraising Category
Feed Your Inner Starving Artist -- Raffle for a glass making class in the museum glass studio and dinner -- by the Bergstrom-Mahler Museum –
Why I liked it? Everyone has an artist inside them waiting to paint, sculpt, craft, etc.

Program Category
Because no child should grow up without books -- ReBook Program--
Why I liked it? Honest and straightforward. Everyone can relate to this message.
Special Event Category
Feed the World You Want to Live In -- EcoFarm Conference 2013, Ecological Farming Association--
Why I liked it? This feels inspiring and makes you want to make a difference in the world and community you live in.

Arts and Culture Category
Play Your Part -- New Depot Players Community Theatre --
Why I liked it? Love the play on words.
Civic Benefit Category
She led. So can you. -- Ella Baker Center for Human Rights --
Why I liked it? Ella Baker was an inspiring civil rights activist and the tagline empowers you to get involved and take a stand.
Health and Sciences Category

Get behind a cure. -- Fight Colorectal Cancer --
Why I liked it? Clever and it made me laugh out lout.
International, Foreign Affairs and National Security Category
Rebuilding what war and occupation have destroyed. -- Iraqi and American Reconciliation Project--
Why I liked it? – It turns an awful situation into something positive that you can be a part of.
Wildlife and Animal Welfare Category
Feel the Warmth of a Cold Nose -- Maryland SPC--
Why I like it? First of all I love dogs so that quickly resonated with me but the words in particular had me saying "awwww, of course I want to support them," which is exactly what the organization intended. Mission accomplished.
There are several more clever tagline finalists, which you can check out here. Which taglines are your favorite?