Last week on Frogloop, Bobs Sands of Care2 wrote a powerful article on the importance of taking action. "Yes, Public Service, Employers and Nonprofits alike will continue to be a big part of solving problems in our everyday lives – no doubt about it. But isn't it really an attitude of non-action that we all need to get honest about? Instead of being an entitled people, waiting for "they" to fix the economy, fix healthcare, fix our dependence on foreign oil, fix the environment, fix human rights issues, fix our "entitlement programs", etc., ask yourself what can you do?" said Sands.
Coincidentally, the day we published Sands post, Allison Silberberg sent me chapters from her new book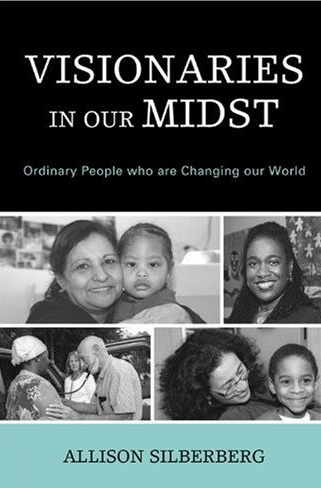 Visionaries In Our Midst, a collection of essays that profiles ordinary people who saw an unmet social need in their community and had the guts to "take action" and go out do something about it.
Visionaries in Our Midst introduces inspiring people like former Hill Staffer, Karin Walser who started Horton's Kids, a community center in SE Washington, DC, after she met a group of homeless kids while she was getting gas on her way from work. The following are excerpts from the book detailing Walser's experiences starting Horton's Kids.
"I was interested in what could compel a child to cross four or six lanes of traffic at 10:30 at night. The children said they lived at the Capital City Inn, which was the city's largest homeless shelter. It's been torn down since then. So that's how I first met them."
She wasn't scared but she admitted, "Looking back on it, I should have been. But I wasn't. I said to the kids, 'What's it like living there?' And they said, 'It's boring.' So I asked them if they wanted to go to the zoo. And they said, 'Yes!' So days later, I went back and picked them up to go to the zoo. Of course, when I went there, there were thousands of them swarming all over my car, begging to be able to go. I stuffed as many as I could into my car and ever since then, I've been trying to get my friends and other people to go with me so that we don't leave anybody behind.
Washington is a tale of two cities, but in Washington, the shift in reality from one part to the other can be jolting to the unsuspecting soul. Other parts of the nation have the same issues of grave poverty and hopelessness. It's just that in Washington the land feels compressed, so you may drive from the gleaming white dome of Capitol Hill with its powerful halls of Congress and go to the depths of poverty in five minutes!
In the beginning, "I generally did cheap things with them," Karin recalled in mid-2007. "If I needed to do something, I just dipped into my pocket. Then people started giving me money to do things with the kids. They'd say, 'This is for the kids.'
"I thought that maybe I should open a separate bank account. I never set out to start a nonprofit. I just wanted to help some kids. But to open a bank account, you have to incorporate. So in December 1991, we incorporated.
Today, in 2007, our budget is $900,000, including approximately $100,000 in in-kind donations," she estimated. "Three out of the seven full-time staff people, including me, started out as volunteers. I'm a little biased toward people who have paid their dues in the neighborhood."
With about 500 volunteers per year and the seven on staff, including Karin, Horton's Kids worked consistently with 163 children from Anacostia in 2007. About fifty other children were involved with Horton's Kids intermittently. The kids' ages ranged from four to nineteen.
The name of Horton's Kids is based on the well-known Dr. Seuss book, Horton Hears A Who. As Karin kindly reminded me, "A 'who' is a little tiny person who lives on a dust ball." "A dust ball?" I questioned, wondering where this was going.
"Don't you remember the book?"
I hesitated and blurted out with laughter, "It's been a while!"
"Well, Horton says, 'There are people out there who you can't see but they still need us to take care of them.' Horton realized there was suffering. He never actually saw Whos, but he took responsibility for alleviating their suffering." Thus, Horton's Kids was launched, committed to the children behind the invisible veil.
Visionaries In Our Midst is available at bookstores and online.