Readers of Care2's Frogloop blog love that our blogger in chief, Allyson Kapin always has her fingers on the pulse of the most current news, research, and best practices in nonprofit technology, online advocacy, fundraising, and social media. But did you know that when Allyson isn't running her web agency
Rad Campaign
, or writing and editing Frogloop, or running popular conferences like Women Who Tech and Nonprofit 2.0, she writes books?
Allyson's newest book -- co-authored with Amy Sample Ward, and foreword by Craig Newmark of craigslist and craigconnects -- is hot off the presses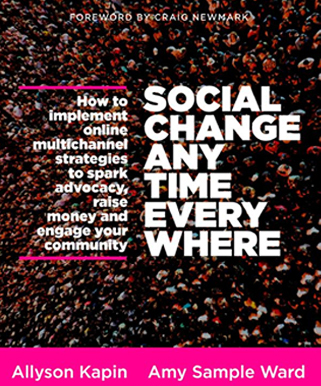 (almost literally!). It's called "
Social Change Anytime Everywhere: How to Implement Online Multichannel Strategies to Spark Advocacy, Raise Money and Engage Your Community
.
" Just for you, dear Frogloop readers, we hereby present an excerpt from Allyson's excellent new book. It's about how to plan a mutlichannel fundraising campaign
.
Enjoy!
How to Plan a Multichannel Fundraising Campaign

Establish Fundraising Goals
Set your total fundraising goals up front. When determining the "magic number," it 's important that you set realistic expectations. For example, if you are experimenting with social media fundraising for the first time, it's important to remember that only 0.7% of organizations raise more than $100,000 through that channel. And about 8% of money raised is through all online channels. Be very conservative in your goals, and consider the staff time and vendor fees you 'll need to support your campaign.
Develop Campaign Goals and Messaging
Sometimes it helps to crystallize your campaign goals by doing a simple exercise. Answer the question, "What three or four main goals will we achieve by raising X dollars for Y campaign?" For example, here are some campaign goals that we answered internally for a neighborhood soup kitchen whose mission is to provide warm meals and job training to people who are experiencing homelessness.
"What goals will we achieve by raising $50,000 for the neighborhood soup kitchen?
Goal One: Illustrate that homelessness has risen 25% in our city over the last year, resulting in a rising demand for our free meals and job training services.
We want donors to understand that every night there are lines of hungry people outside our door waiting for a hot meal.
Goal Two: For every $50 donated, 25 homeless people will get a nutritious dinner for one week at our soup kitchen, beginning next week.
Goal Three: For every $25 donated, our soup kitchen will provide computer training classes to 10 homeless people we are serving for one month.
Goal Four: Tell the personal story of a soup kitchen volunteer who has benefited from eating regularly at our soup kitchen and participating in our job training program.
Again, be realistic when setting campaign goals. Think about smaller, achievable goals like we discussed in Chapter Three. Also remember these goals are for internal purposes. When your organization designs and rolls out its campaign publicly, you can still convey the fact that there are lines of hungry people waiting for food by telling an individual's story.
Define the Messaging Hook
When developing your campaign and messaging, you will need to share the compelling story behind the issue you are fundraising for and discuss the immediate need, as we outlined in the soup kitchen example. Tell donors how their donation will benefit the organization, program, and those served. Remember, people want to see a tangible impact. You will raise more money if this is clearly highlighted in your fundraising messaging. Fundraising appeals that have urgent deadlines and matching gift s have higher open rates and average gift amounts.
Identify Your Target Donors and The Channels They Are On

Who will you be targeting with your fundraising campaign? Existing donors who have donated to a similar campaign appeal before? Primarily new donors with whom you have built a relationship through Facebook around a certain campaign? Since often each channel has different demographics, it's also important to understand prospective and current donors' preferred channels for donating and communicating. Do they prefer to donate via online fundraising appeals that are signed by your organization's executive director? Direct mail? By phone? Through peer-to-peer online fundraising campaigns?

Set up a Fundraising Calendar
A fundraising campaign calendar is one of the most important parts of multichannel fundraising plans. It maps out the timelines for the entire campaign, helps you plan an engagement ladder with your constituents, and outlines staffing and resources. A good calendar outlines a schedule for drafting, editing, and implementing the campaign and considers the goals, audiences, and channels for each component, including
• Email appeals and graphics
• Welcome series for new donors
• Website donation landing pages, graphical callout boxes, and homepage hijacks
• Direct mail
• Telemarketing
• Social media strategies and messaging
• Text-to-give messaging if appropriate
• Online or print advertising to promote the campaign, if appropriate.
• Fun interactives that don 't ask donors for money
• A/B testing, which analyzes two versions of a webpage, appeal, or message to see which is more effective
• Segmenting
• Thank-you messages and fundraising campaign updates
Staffing and Resources
As part of this fundraising calendar process, it 's also important to establish staffing resources and identify how this fits into the overall timeline.
"A tight team that 's worked together, knows their stuff, and understands what everyone else is doing probably doesn't need to muddy a calendar with project management details, dependencies, and broken down tasks. But the typical nonprofit fundraising team is working with outside developers, designers, and writers, plus staff, spread across the country, some of who just started in the past year because of typical nonprofit turnover," said online strategy consultant Ted Fickes. "And the weekly team meeting and countless emails to everyone, just doesn't get you organized enough. So, a calendar should to the extent possible specify the relationships between people and tasks."
If you're looking for advice on steps to roll out your multichannel fundraising campaign you will need to buy the book. :)