I know what you are thinking – yet another social media study. How many more studies can there possibly be when truth be told, having a good social media strategy is not really rocket science, which I discussed earlier this week in the post "Tips to Humanize your Social Media." So while social media may not be rocket science, good data, such as the best times to post updates to Facebook, can better inform strategy.
Photos Were the Most Liked and Shared
Dan Zarellla, a strategist for HubSpot, collected data on more than 1.3 million posts published on the top 10,000 Facebook pages. Zarella's study had similar results to the Social Media Today study that showed Photos Get the Most "Likes" on Facebook than any other status updates. However, Zarella found that text generates more comments on Facebook, which I believe is much more valuable then a passive "thumbs up, see ya later."
Now here's the kicker. While photos generated the most "Likes" on Facebook, it only had an estimated 0.25% of engagement. That is a drop in the bucket compared to the average open rates of emails alerts, which is 14% and the average click rate of 2.1%. (BTW I think email is still one of the most effective online channels and if you are looking to grow your email list, definitely check out Care2.)
Still, you can't ignore the fact that social networks like Facebook (the third most trafficked site on the web) and Twitter have become widely adopted. And they certainly play an important role in organizations communications and outreach strategy, so here's some more useful data from Zarella's study to keep in mind.
People Comment the Most on Text Updates
While text updates were commented on the most, they were one of the least Shared posts on Facebook. Links were the least Shared. Videos were the second most Shared posts but they did not generate many Likes.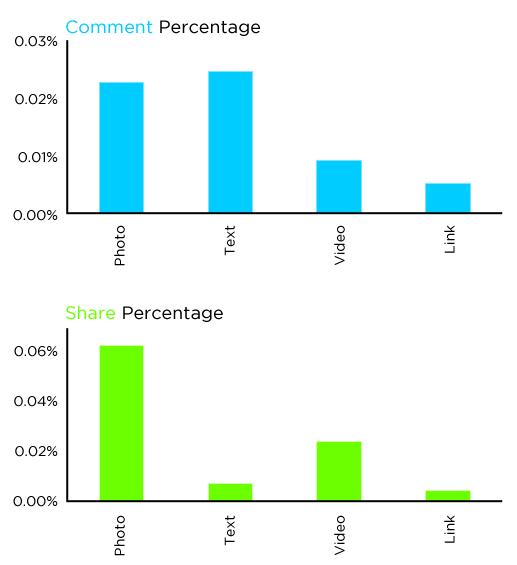 What's the Best Post Length?
Posts that were either very short or very long had more Likes, while longer posts had more Shares.
Getting Personal is a Good Thing
Posts with "I" and "me" received more Likes. While this stat surprised some folks in the space, it did not surprise me at all. When you have conversations with people you use the words "I" and "me" to share opinions, reactions, experiences, etc. Social media is supposed to be engaging and conversational. It's a social experience not a robotic one.
Best Time of Day to Post?
Content posted earlier in the day (ET) generates the most Likes and Shares. Zarella noted that Shares on Facebook peak at 6PM ET and Likes peak at 8PM ET.
Weekends are the Best Day to Publish Posts
Posts published on Saturday and Sunday were Liked more then during the business week.
When you look at your social media metrics, what trends are you seeing? Do they align with Zarella's research?