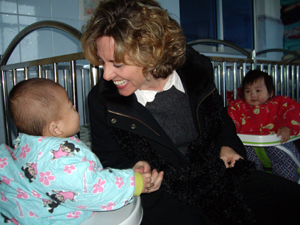 The Facebook Causes Giving Challenge recently crowned its champions of social network fundraising -- Love Without Boundaries Foundation, a more-than-deserving nonprofit specializing in medical care, education, foster care, and nutrition for orphaned children in China. Their Causes page garnered over $94,000 from 6,268 members in 50 days.
How did they do it? Get ready to throw out the book on promoting Facebook Causes. From teaching supporters how to create Facebook accounts to ol' fashioned door-to-door fundraising, Amy Eldridge from LWB, an admitted Facebook newbie, says it's as much the offline as the online work that gets the job done.
As you can tell, the interview is pretty long. So, if you only have a few minutes, here are the5 top takeaways:
1. LWB had to teach their members how to sign-up for Facebook and donate to their cause. Sometimes, this even included an army of college students going door-to-door, ICU nurses convincing hospital staff to join, businessmen calling meetings to let their employees know about the contest, and other offline work.
2. If people are already on Facebook, have gone to your Causes donation page, become a "member" to your Cause, and still haven't donated - they aren't going to, no matter how many times you message them. You have to try and attract new people to Facebook and your Cause.
3. The last two weeks of the contest, Amy and 10 others worked 8-10 hours a day blogging, emailing supporters, making phone calls, and recruiting teens and college students to help them towards gathering donations for the Cause.
4. LWB had no Facebook presence prior to the competition, though they hope to find a Facebook volunteer for the future. That said, they hope to have their main website be the primary source of donations going forward.
5. Other organizations should set very specific goals for their Causes. Rather than simply saying their Cause was "helping orphans in China," LWB specifically picked 10 children dying of heart disease to offer help. When people know exactly what their money is going towards, they feel most comfortable donating.
And now to the interview...
James O'Malley: What was your strategy for promoting your Cause? How frequently did you e-mail your list?
Amy Eldridge: I was a complete newbie to Facebook, so I had to learn as I went on how to best do promotion. We began by sending an email to all of the supporters of our charity by using Constant Contact, just to let them know we had entered the contest and that their donation could help us possibly win more funding for the children. That went to several thousand supporters.
However, since most of our donors are aged 40+, very few had a Facebook account. We did not see a significant amount of people joining in the beginning. It was only after we posted specific instructions on:
How to join Facebook and then
How to join our Cause and donate
that we began to see our numbers climb.
How frequently did we email? In the beginning we emailed our supporters about once a week. We have over 70 volunteers who work for us though, and on that internal email list, we would email about the challenge about 20-30 times a day. Sometimes more!
We also utilized our blog to get more people informed about Facebook Causes. Our numbers really began to take off when outside people began either linking to our blog or promoting that LWB was in the competition on their blogs. Towards the end of the contest, it really became "viral" as more and more people linked to our Causes site.
We also have a monthly e-newsletter that we send out. We featured the Facebook Challenge in two issues of that.
How many people were on your e-mail list before the challenge? How many afterwards?
When we first entered the Facebook Cause program, we only had our own volunteers, so about 40-50 people signed up. As of today, we have 6200 members, which is just unbelievable to me. One day I ran through the list of members quickly, and I would say that at least 70% of the names are people who did not support LWB in the past.
I am so excited that we were able to spread the news of our foundation and how people can help orphans in China through our charity to a wider audience, as most of our donors in the past were tied somehow to adoption. I have always believed that if "outsiders" could learn of our charity, they would want to help, as we give such great reporting and photographs of the kids helped, and because our overhead is so low.
Which source of traffic worked the best? To what would you attribute its success? Why?
I think the most effective utility on the Cause page is the one where the administrator of a Cause can email all members. Right now, you are only able to do that once a week, so I had to decide exactly what I wanted to get across to all members that week and plan accordingly. I think it is great when you can email directly to a member and have it sitting in their inbox, rather than having to rely on people just stopping by your Cause.
I also think that the encouraging posts that were made on our Wall really helped a lot as well, as people could see that we are all about the kids.
How many people were involved with LWB on the contest? Were they mostly volunteers? How many approx. hours did they work?


We had a core group of about 40-50 volunteers working on the contest. We are all volunteers as no one in the administration of LWB is paid.
Oh the hours!! I know just speaking for myself, I was putting in at least 8-10 hours a day blogging, emailing supporters, making phone calls, and recruiting teens and college students to help us. It was definitely a full time job during the last 2 weeks of the contest. I know of at least 10 other people who were working similar hours trying to cheerlead more donors to our Cause. Who needs sleep when there are babies in such desperate need of surgery?

Have there been any other opportunities -- press, major donors, etc. -- that came from winning the contest?
We were able to be interviewed by the New York Times about the contest, which was a definite plus. And of course each individual donor who contributed during the challenge allowed even more precious funds to come in for the kids. We had $94,000 donated before the top prize was announced. Those funds will help so many orphaned children have the surgeries and other care they need.
The best opportunity for us, however, was that our own website was hacked on 12/29/07 and a virus that was planted completely disabled our website and our ability to take in donations for the children. So, the Facebook challenge could not have come at a better time, as we had no other way to take credit card payments, and no other way to let people know about new, urgently sick children. So it was the most amazing blessing to know that even though someone had tried to hurt the foundation by disabling our website, we still ended up being able to help the kids in the end. I love when the bad guys lose!

Did you already have a social networking presence before this contest? If so, how did that help you, and if not, was that a setback?
We did not have a social networking presence before this contest. I am the mom to seven kids, five of them teens, and I don't think they were very excited about mom joining Facebook in the beginning, since it was always pretty exclusive to students in the past. But once they realized what a great tool it was to spread the word of our foundation, they really got behind it.
I do think we were at a real disadvantage in the beginning as we had no idea how to even use the administrative functions or any real idea what 'a wall" was. But we learned fast!
One of our key challenges was the fact that many of our key donors are older and less likely to even know about social networking sites like Facebook. The high school and college aged kids of these parents were a great help in spreading the word, however, and helping us with the technology. The contest was a real bridge builder between the generations! It was great to see grandparents, parents, young adults, and teens all working together to support orphaned children.
What advice would you give to other nonprofits interested in using Facebook or other social networks for donations? Seems like it was worth the effort for this contest, but does LWB plan to continue to use Facebook for future donations?
The contest itself began as something completely fun, but by the end I will
admit that we were very exhausted. However, it was a real spirit lifter to us all as we were able to see how committed our supporters are. We had college students going door to door getting friends to sign up, ICU nurses convincing hospital staff to join, businessmen calling meetings to let their employees know about the contest and more. It was AMAZING.
The frantic pace of the contest was a real driver for the donations, but definitely that pace is probably unsustainable for on-going donation activity. Because we do have the ability to take credit card payments on our main website again, that is where I envision the majority of our funds will still come from. But I hope as word of our foundation grows on Facebook, we will continue to receive donations there as well.
I think our main advice to other nonprofits on using Facebook for donations would be to have a definite strategy in place. For example, they could post fund raising goals for the month and a deadline to meet that goal. Then during the course of the promotion, they could continue to post messages on the progress toward the goal and the benefits that the funds will deliver.
I really think that was part of our success, in letting our donors know exactly how the funds would be used and showing them many of the kids who will benefit from them. So if a charity needed to build a well, for example, they could set that project for the month on Facebook, and really rally people behind that one specific project. I think people are more apt to give if they know exactly how their funds will be used.
I definitely believe that Facebook will continue to be a great way for charities to spread the news of their cause. I think it is essential for any charity using this type of application, however, to keep the site current and keep lots of information about what the charity is doing up to date. I think without current information, people would quickly lose interest and stop coming by. We plan on finding a specific Facebook volunteer to do just that.
I have already written to the Cause team about some recommendations we thought of during the challenge, such as the ability to add more photos. They are an awesome team of people and they have already implemented some changes to help charities showcase their work. The photos application came just last week.
I would still like to see some accountability features, since I believe fully in "informed giving". I do not believe anyone should blindly give money to charity without researching how the charity will use their funds, as there are incredible, fabulous charities out there and then of course there are some who are very inefficient with their funds.
I think a simple "reports" section would be great, where charities could load their 990s, annual reports, etc. If there are two groups giving money to the Sudan, for example, it would be great to know which one gets 90% of their funds there versus one that only gets 40%.

Lastly, you can shamelessly plug LWB. What will LWB be using the money for this year? What goals does the org. have? Any links you'd like to share?
Love Without Boundaries is a pretty unique organization, as we all work as volunteers. That allows our overhead to be under 3%, which for a million dollar foundation is pretty remarkable to me. We all work every day to help impact the lives of orphaned and impoverished children in China.
We provide help in four main areas: medical care, education, foster care, and nutrition. Currently we work with over 100 orphanages and provide care to over 2000 orphaned children. During the Facebook challenge, we agreed that if we won the $50,000 top prize, we would use those funds to heal the hearts of ten children dying of heart disease. So many children who are born with heart disease end up being orphaned as their parents cannot afford the cost of their medical care.
In China, heart surgery costs just $5000. We have already identified the ten children who will receive surgery with those funds. Many other children will benefit with surgeries as well from the individual donations that were given in this challenge.
We will also use some of the funds to move children out of institutions into loving foster homes, to help provide college funding for poor rural teens, and to help fund nutrition for babies who are failure to thrive. Our ultimate goal for any baby in our program is to get them well enough for adoption, as we celebrate each and every time an orphaned child finds a home.