Year-end fundraising has begun! As you know the month of December is the biggest revenue generator for the nonprofit sector. Just in case you were thinking of skipping #GivingTuesday here's three easy tips to leverage this collective day of giving and action.

You don't need to reinvent the wheel to raise even more money on this day. Use the campaigns you are already engaged in to send an appeal on #GivingTuesday and promote it on social media.
1. Show Impact:
Set a realistic fundraising goal and tie it to tangible impact. For example, if your organization were a soup kitchen, you could frame this as "for every $20 you donate, we will be able to feed another 20 people at our soup kitchen tonight." Connect donations to helping individuals, a critical project, or program.
2. Make it Urgent
While #GivingTuesday raises a lot of money across the nonprofit sector, your organization is competing against every other organization on this day. Your fundraising appeal and social media posts need to stand out from every other charity. You can do this by showing a sense of urgency. Tell your supporters what's at stake. Tap into the momentum that's happening on the ground if you are a grassroots advocacy organization.
3. Leverage Social Media
While nonprofit's don't raise a ton of money via social media, you can use Facebook, Instagram, Twitter, etc. to get even more of your supporters involved in promoting your organization to their personal networks.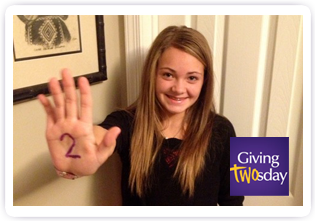 For example, a couple of years ago, Give Kids the World engaged its followers on social networks to participate by taking pictures of a "2" on their hands as a symbol of doubling their impact on #GivingTuesday and posting the pictures online. They not only shared it with Give Kids the World, but supporters shared it with their social networks, expanding their reach. While their "ask" focused on money, your "ask" can be something simple and focused on a personal pledge such as what Planned Parenthood has done with the message "I stand with Planned Parenthood."