Frogloop readers interested in how nonprofit fundraisers approach the challenge of raising money in ways that strengthen, rather than weaken, the trust of their donors and supporters, should tune in to today's "Nonprofit Coach" radio show at 12 noon Eastern Time, hosted by fundraising author and consultant Ted Hart.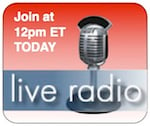 **Update: the full audio recording of this episode is available below**
Ted's guest will be Care2 VP of Nonprofit Services Clint O'Brien, and their topic will be "Staying True to Core Values in Fundraising Campaigns." Inspired partly by the Susan G. Komen – Planned Parenthood controversy earlier this year, the show will explore the pitfalls and opportunities for nonprofits that bring in revenue by (among other things): 1) accepting advertising and sponsorships; 2) teaming up for cause marketing campaigns with corporate partners; and 3) using advocacy campaigns partly as fundraising vehicles.
The discussion also will touch on the rise of for-profit social enterprises like Care2 -- the host of this Frogloop blog you are reading -- and how these self-styled "do-gooder" companies try to strike a balance between earning a profit while taking their social missions seriously.
By the way, to watch possibly the best-ever commentary on nonprofits' teaming up with corporate partners, check out this clip from Stephen Colbert…