As nonprofit campaigners, it's our job to engage our constituency, move them up the ladder of engagement, and of course raise more money. New tools and mobile apps should always be on our radar. But have nonprofit campaigners in the U.S. been drinking too much Kool-aid these past couple of years and putting too much faith in mobile apps?
Consider what the most popular mobile apps are today. According to a June 2010 Nielsen survey of 4,200 people who had downloaded an application in the past 30 days, games were the most downloaded and followed by music, social networking, news and weather, maps, search, video and movies. I'm fairly confident the majority of downloads had nothing to do with advocacy considering just one year ago, the "All-Time Top 20 Iphone Apps" included IFart, Facebook, IBeer, Google Earth, Super Monkey Ball, The Weather Channel, etc.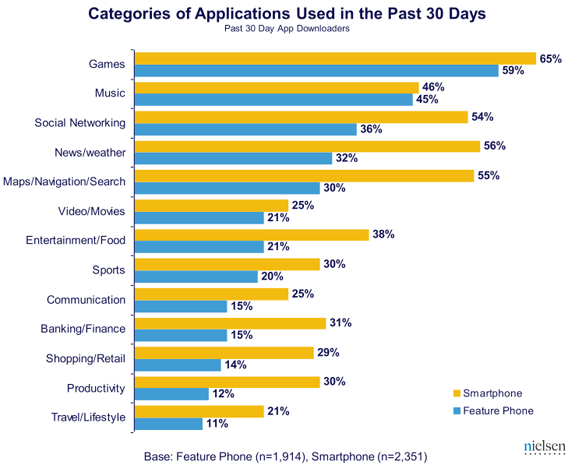 Your probably not surprised by these trends, so why are nonprofits so obsessed with developing apps that probably aren't generating much return of an investment? Check out this thought-provoking below post by Lindy Dreyer from SocialFish who cautions nonprofits and associations to put the breaks on developing mobile apps.
Mobile Apps are a Waste of Time for Associations
* deep breath * There. I said it. And I know I'm going to get a lot of grief over it, so let the debate begin.
I've been thinking about this a lot lately, and my thinking has been influenced by research, including the September Pew Internet report on "The Rise of App Culture," and a report on global mobile statistics from MobiThinking. I believe that associations need to get mobile right, and fast. I disagree that apps are the answer. Here are five reasons why.
1.) There are too many barriers to using your app
So, first someone has to have a phone that works with native apps–for the most part, that's an iPhone, Android, Blackberry, and maybe a Windows phone or other smartphone. Then, assuming your app works on all of those phones, they have to download the app. Then they have to USE the app. See? That's three significant barriers right there.
2.) Popular app types don't favor association apps
App users heavily favor games, followed by news/weather, maps, social networking (inflated by successful Facebook, LinkedIn, and Twitter apps), and music. To me, these are lifestyle apps, and each of these categories will be dominated by the big players in those spaces. I could never advise an association to try to compete for mobile app users in any of these niches.
3.) Association members are not ready yet
According to Pew, only 29 percent of adults with cell phones use apps on their phone, compared with 72 percent who use SMS (text messaging) and 38 percent who access the internet. App users skew younger and male, too. If we're fishing where our fish are, apps are a miss this year.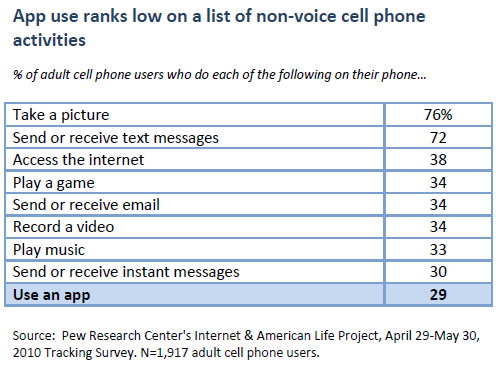 4.) By the time association members are ready, mobile apps will be on the decline.
According to ABI Research, mobile app downloads are expected to peak in 2013, then start a slow decline. According to their senior analyst, Mark Beccue,
"We see two emerging trends: first, many applications (increasingly built on web standards) will migrate from app stores to regular websites, and for some sites you won't need an app at all. In addition, more and more popular applications will be preloaded on mobile devices. Social networking apps in particular will be pre-loaded on new products."
This is important. The first thing people think of when we talk apps is native apps–the ones you download from the App Stores, or the ones that come pre-loaded on your new phone (and pre-loading partnership deals are probably not an option for associations.) But as mobile web browsers and the sites we design for them get more sophisticated, "web apps" will begin to take the place of native apps. If you used http://asae10.org from your mobile phone, you used a web app. And you didn't need to download anything–you just went to the URL in your mobile web browser. One less barrier. So to be clear in this post, [native app = bad] and [web app = good].
5.) There are better ways to invest in mobile this year.
A year from now, building mobile apps will be cheaper and easier. We'll know more about the market, and there will likely be more of our fish in the sea, so to speak. There will also be more vendors with web app options, rather than native apps. So for this year, where should associations be spending money on mobile? I can think of a few things to invest in…
Optimizing website content and user experience for the mobile web
Researching member use of mobile (including iPad/tablet),
Optimizing email for mobile web
Continuing to optimize presence in Facebook, LinkedIn, and Twitter, which have the most popular social networking mobile apps that people are already using.
Experiment with opt-in text messaging (especially for event registrants, volunteers, and grassroots advocacy use). Remember, the adoption rate for SMS is 2.5 times the adoption rate for mobile apps.
Think I'm wrong? Then at least test the concept before you commit big dollars to it. Don't rush in to building apps, and waste resources you need for other kinds of mobile innovation.
More Resources: