It's no secret that the nonprofit community has seen a steady decline in email open rates, click-through rates, and email page completion rates, which was also confirmed by the 2014 eNonprofit Benchmarks Study. The report, which analyzed data from 53 nonprofits, over 2.1 billion email messages, 5.6 million donations, and 7.5 million online actions shed light on valuable information for nonprofits and their messaging. This information will be a great place to begin evaluating your own online progress. For example:
Fundraising messaging response rates were down 11% from 2012 levels to 0.07%.
Advocacy messaging declined 25% to 2.0%.
Don't panic though, there are a few bright spots in the midst of all this decline: email lists, online giving, and website traffic are still growing.
Email lists are up 14% over 2012 levels.
Online giving among study participants increased 14% since 2012.
Monthly giving revenue grew 25% in 2013, and accounted for 16% of total online giving.
Monthly website traffic for study participants grew by 16% in 2013.
On average, 0.69% of website visitors made a gift, bringing the average value of a visit to $0.60.
Visitors who made it to a nonprofit website's primary donation page converted at a rate of 15%.
Check out the email list growth over the last few years of different sized nonprofits (orange: 2011, yellow: 2012, and blue: 2013) -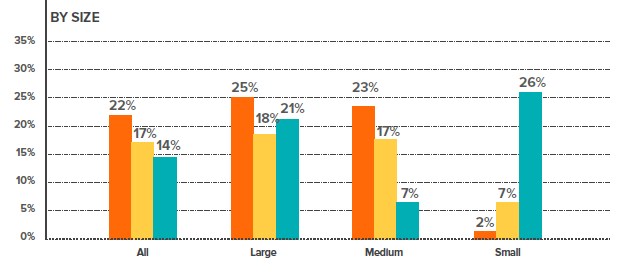 This is great news for your organization. Even though fundraising message responses are down, online giving is up, so there's a lot of hope and real value in the investments you're making online.
Speaking of online, what about social media? What's going on there?
Social media audiences continue to grow at a much faster rate than email or website traffic.
Nonprofits who participated in the study grew their number of Facebook fans by 37%, and Twitter followers by 46%.
Despite the surplus in social media growth, email continues to dwarf social media. Email surpasses social media channels both in audience numbers and in revenue acquisition.
Where did you see the most decline and the most positive growth in 2013?