With so many apps coming out all the time it's easy to miss the ones built for social good and hard to keep up on useful apps that nonprofits and causes can use to do their work. Frogloop has you covered.
This week we've found apps to help you screen for cancer, protect your skin, and stay active. There are many more mobile and web apps for tracking, learning, and keeping informed about your health. Here are five of our favorite new, updated, and helpful healthy apps doing good.
iBreastCheck by Breakthrough Breast Cancer

iOS: Breast exams are an important health precaution that can easily save your life. iBreastCheck introduces important information in multiple ways to fit everyone's learning style. The first screen lets you learn about how their Touch, Look, Check (TLC) approach to breast exams through a video, cartoon slideshow, or straight prose. Whichever you choose, at the end of the text, on the last slide, or when the video reaches its end, you are immediately pushed to take action on your new knowledge by setting up a regular reminder.
You can also take a quiz to assess your risk factors for breast cancer. After answering some questions about your age, alcohol consumption, activity level, and medications, you get a tailored report with tips on how you can reduce your risk.
This app gets high scores for usability. It's very intuitive to navigate, the reminders are native iOS push notifications, and it doesn't interrupt with intrusive calls to donate or learn more about the organization. Too many nonprofit apps divert attention from their core value. You can still learn about Breakthrough's mission, sign up for their newsletter, share the app, donate and more, but that's not the focus and you aren't constantly pushed out to a separate browser for more information.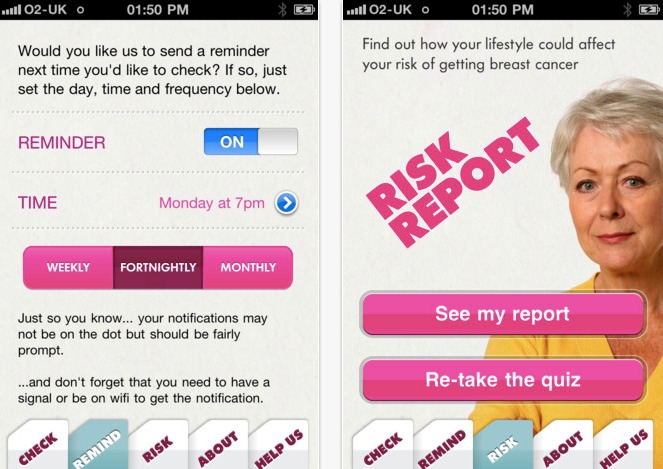 Your Man Reminder by Rethink Breast Cancer
iOS/Android: Another worthy approach to breast exam reminders comes from Rethink Breast Cancer's Your Man Reminder app. Your Man takes a humorous approach by letting users choose a hunky looking guy to serve up weekly or monthly reminders. Choices include the superstar athlete, the boy next door, the smooth heart breaker, the perfectly put together preppie, and the rugged blue-collar guy. As the app's download page puts it, "every girl has a type. Who will you choose to remind you?"
I'll bet many women will be turned off by this approach, but looking at Rethink Breast Cancer's mission I think they hit on an approach that works for them.
"We are the young women's breast cancer movement.

Launched in 2001, Rethink is the first-ever, Canadian breast cancer charity to bring bold, relevant awareness to the under-40 crowd; foster a new generation of young and influential breast cancer supporters; infuse sass and style into the cause; and, most importantly, respond to the unique needs of young (or youngish) women going through it.

No pink ribbons required."
Clearly it's not for everyone, but that was never the intention. I applaud Rethink's willingness to experiment.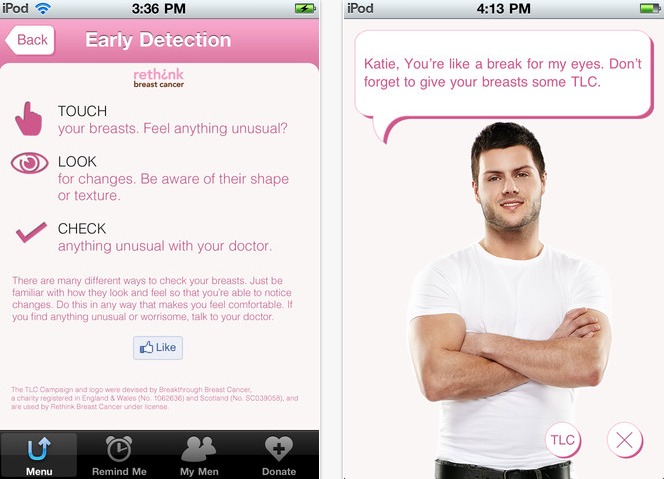 EWG Sunscreen Buyer's Guide by Environmental Working Group
iOS: Summer beach season and this year's record temperatures have a lot of people thinking about sunscreen. The fact that you can get sunburn any time of year even when it's cloudy only makes using effective sunscreen more critical. Based on data from Environmental Working Group's annual Skin Deep sunscreen data, this app offers recommendations for top sunscreens and ratings for hundreds of sunscreens from all the major sunscreen brands.
Each product is given an overall 1-10 rating for health hazards and effectiveness. The ratings are based on five factors:
Health hazards associated with listed ingredients
UVB protection (using SPF rating as the indicator of effectiveness).
UVA protection (using a standard industry absorbance model).
The balance of UVA/UVB protection
Stability
I found the guide relatively easy to navigate, but it would be nice to see more information about the warnings and ingredients listed for each product. For example, the guide cautions that I avoid Coppertone Sport High Performance Ultra Sweatproof Clear Continuous Sunscreen Spray, SPF 30, one of the sunscreens in my home, giving it an overall hazard score of seven out of a ten.
Most of the ingredients are rated with relatively innocuous looking scores of 0-3. Looking carefully, two ingredients, Oxybenzone and Retinyl Palmitate, pop-out at me with scores of 9 and 8 respectively. If you think I have any idea what Retinyl Palmitate is, I've got a bridge to sell you. Why do these two get red flags? The mobile app doesn't say. Looking this sunscreen up on the Skin Deep website, I see this ingredient listed under "Other Concerns" with a tooltip warning that "This additive may hasten the development of skin damage and tumors on sun-exposed skin." Yikes! EWG has clearly put together an extensive resource with Skin Deep. Hopefully, more of this available data will be integrated into the mobile Buyer's Guide in the future.
Sunscreen is a unique product category. While some people purchase sunscreen online after extensive research, it's just as often a spur of the moment purchase that people make decisions about in stores as they browse the selection on the shelf. Enabling consumers to pull up sunscreen ratings with a barcode scanner or label recognizing camera would be a great addition.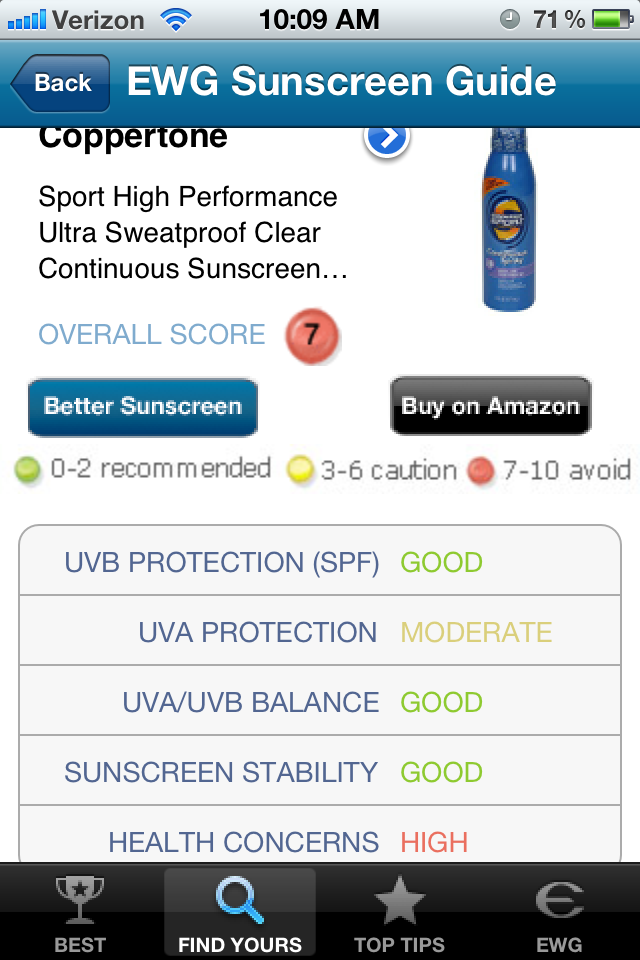 State of the Air by American Lung Association
iOS/Android: State of the Air tells you what your lungs will face anywhere in the United States when you head outdoors each day. You can see the EPA's color-coded Air Quality Index for your location and a forecast for tomorrow. The index ranges from a satisfactory, low risk, green "Good" (0-50) to a maroon "Hazardous" (301-500) for emergency conditions when "everyone should avoid all activity outdoors. This information is especially helpful to anyone with asthma or other lung issues.
Air quality doesn't make a lot of news headlines. The wildfires ravaging much of the US this year have drawn some attention to the issue as well as particulate matter in the air has risen in areas near the blazes. I've also seen news stories about air pollution in urban China, including coverage during the 2008 Olympic coverage that focused on hazards to long distance runners struggling with Beijing's notoriously poor air quality.
The United States Environmental Protection Agency's app EPA AIRNow provides the same AQI data, but personally, I'd rather "Fight for Air" with the American Lung Association.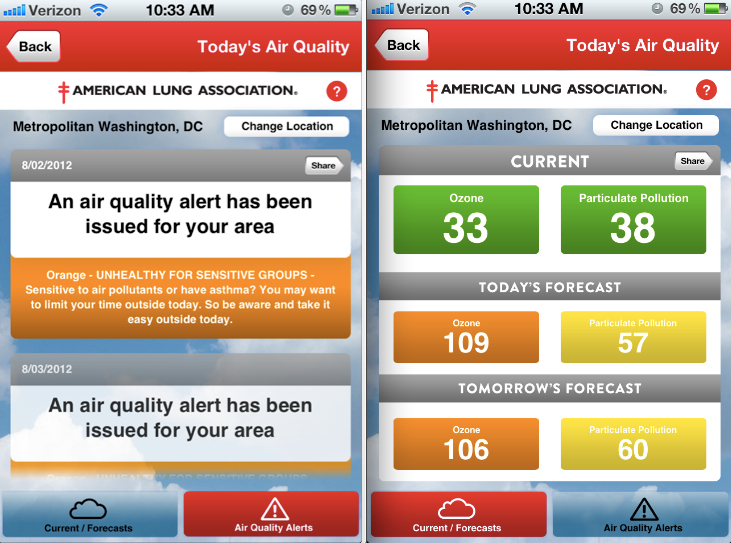 Walking Paths AHA by American Heart Association

iOS/Android: With Walking Paths, you can view walking paths near you that other users have created, start your own paths by dropping GPS markers along your route, and track your meals and snacks. The app complements American Heart Association's StartWalkingNow.org site and you can login with the same credentials to pull up paths you've saved.
Walking Paths supports American Heart Association's campaign to Start Walking. 30 minutes of daily exercise can reduce your risk of heart disease. They've been at this for years. I remember being so excited for Jump Rope for Heart in elementary school. Start Walking and Walking Paths are a refreshing complement to those programs.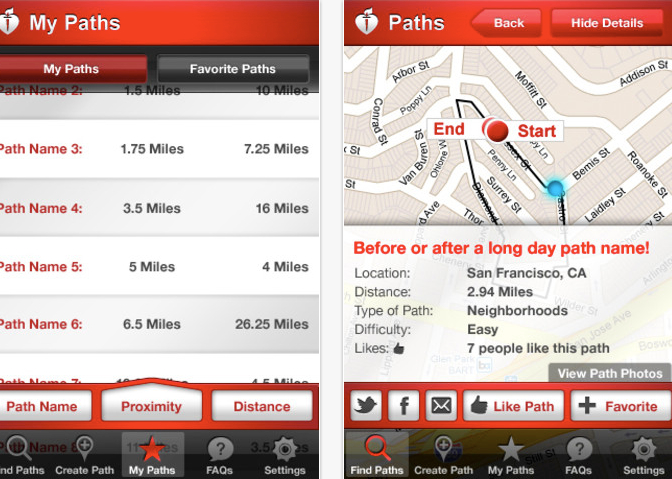 Hoping for more? Check out our previous roundup of Apps for Good and tell us about some of the apps you've found that are built to do good or helpful to your work this week.
Avi Kaplan is a Senior Strategist at Rad Campaign, a firm that provides web design, web development, online marketing, and strategy to nonprofit organizations and political campaigns.